Yoonjin Park
Art Therapist
Booking details

Availability

Daytime: Monday - Friday (timezone: CT, GMT-6)

Setting for Services

Online and In-Person in Humboldt

Type of Sessions Offered

Individual Adult, Children, and Youth

Approaches

Art Therapy, Expressive Therapy, Client-Centred Therapy, Trauma and Attachment Informed

Rate

$135 + GST per 60 minute session

Areas of Focus

trauma (religiously based and general), congruent living, anxiety, stress
What drives me to do this work?
I have worked with clients with DID, PTSD and minority groups in Canada. In many situations, I found that my clients experienced abuse, self-denial, rejection and frustration by their religious organisations. In our society, the spiritual and religious fields are somewhat secretive and not to be spoken of in public. As a result, they never share their inner wounds with others, and often my clients aren't able to process their negative experiences and so their emotions are not validated. I have witnessed how our therapy process creates and provides a safe space to heal their various wounds.
What can clients expect in working with me?
As an art therapist, I use art with my clients to open a conversation, explore our emotions and reflect our authentic selves. To heal our inner wounds, building therapeutic relationships with my clients is the first and the most important step. When my clients and I create a safe and trustable space/atmosphere, compassion will happen and healing will follow as an outcome. Some inner pain cannot be described with words, and this is why we use art as our safe tool to explore those hard feelings. When the healing process is shared and discovered, the clients will be ready to connect their current lives and build a strong sense of self.
We use art but no art skills are needed. You will be asked to prepare basic art materials like paper, markers, crayons or coloured pencils.
Relevant work/life experiences that bring me to do this work:
I completed my Post MA in Art Psychotherapy Diploma at the Canadian International Institute of Art Therapy. I have a long-term interest in psychology, culture, and religion. I have been working with family, children and groups in my community and also online.
Who am I?
I am a spouse, mother of two, daughter, sister, and friend. I was born and raised in South Korea and I moved to Canada in 2010 with my Canadian husband, our first daughter and a family cat. I now live in rural Saskatchewan with an additional Canadian-born daughter and another cat. I love art and I love talking about how art works and heals us.
I work and live on the homeland of the Metis and the historic territory of the Cree, Saulteaux, and Assiniboine First Nations – in the area most recently defined as Treaty 6.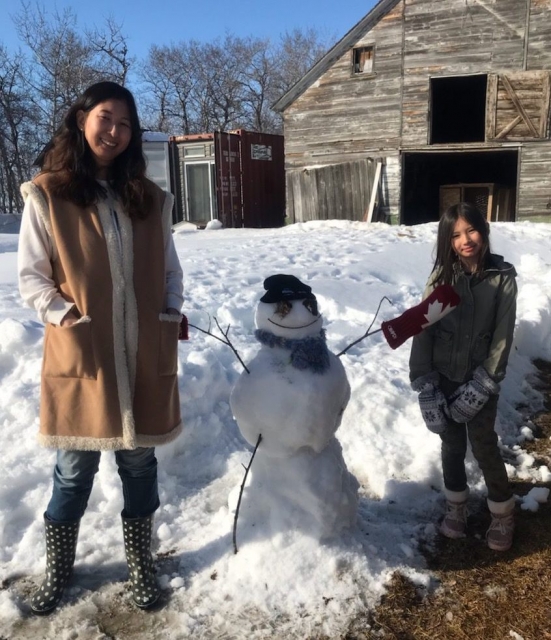 My youngest daughter and I in a peaceful Saskatchewan farmyard.